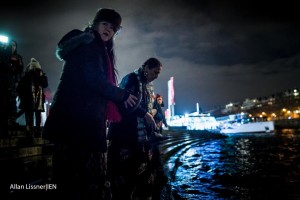 MEDIA ADVISORY
December 12, 2015
Media contacts
Clayton Thomas Muller – clayton@350.org  +16132977515
Suzanne Dhaliwal – suzanne@no-tar-sands.org +447772694327
Indigenous Peoples Condemn Outcome of Paris Climate Accord
What: Indigenous People will gather to hold a ceremony, followed by an Indigenous Rights action.
When: 8am, Saturday December 12th
Where: Start in front of Notre Dame, then move to Pont des Arts ('Love Bridge'). Paris, France.
Who: Indigenous Peoples who have come to Paris for the UN COP21.
Photo Opportunities: Large group of Indigenous Peoples. Singing. Drums. High-impact visuals.
Paris, France – Global Indigenous Peoples will peacefully gather for a photo opportunity and press conference on the iconic Pont des Arts or 'Love Bridge' to respond to the failure of the UN to achieve an agreement at COP21 that takes meaningful action on the the climate crisis.
In the face of the climate crisis Indigenous Peoples are both on the front lines of the impacts of climate change, at the forefront of the battles to keep fossil fuels in the ground. The agreement as it stands undermines the sovereignty of Indigenous Peoples globally and pushes forward false solutions to the climate crisis such as REDD, Reducing Emissions from Deforestation and Degradation.
It is paramount that leadership for meaningful action on climate change comes from Indigenous Peoples who have knowledge about the urgent impacts of the crisis and also hold solutions to keeping highly polluting fossil fuels in the ground and meaningful climate adaptation strategies.