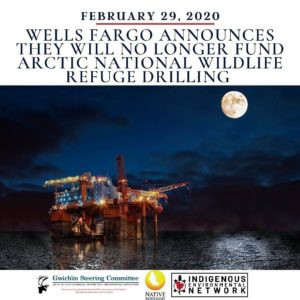 Wells Fargo Rejects Funding for Drilling in Arctic National Wildlife Refuge Fairbanks, AK – Wells Fargo has released an update to its environmental policy
Read More »
The articles above are those from the front lines – Indigenous Peoples who, for generations have been caught up in the destruction, disease, and economic economic inequality of fossil fuels and mineral extraction. The taking of coal, oil, gas, uranium, and precious metals leave scars on the land, destroy biodiversity, waste precious water reserves. Communities are left with fouled water, air, and land. We work with these front line peoples to help them resist these onslaughts and find the ways in which to transition to a regenerative economy that is regenerative and supports a healthy and sustainable future for the next Seven Generations.
Our organizers live and work in the communities we serve – We join with other Indigenous and non-indigenous grassroots organizations for a Just Transition.
Help us to continue this work.
Stay up to date on action alerts, press releases, and stories from the front lines… We never share your information – your email address is safe with us!
Fill out the form below, the only info you have to share is your email but wed like to know where you're from and what categories of information most important to you.
Thank you for your support!