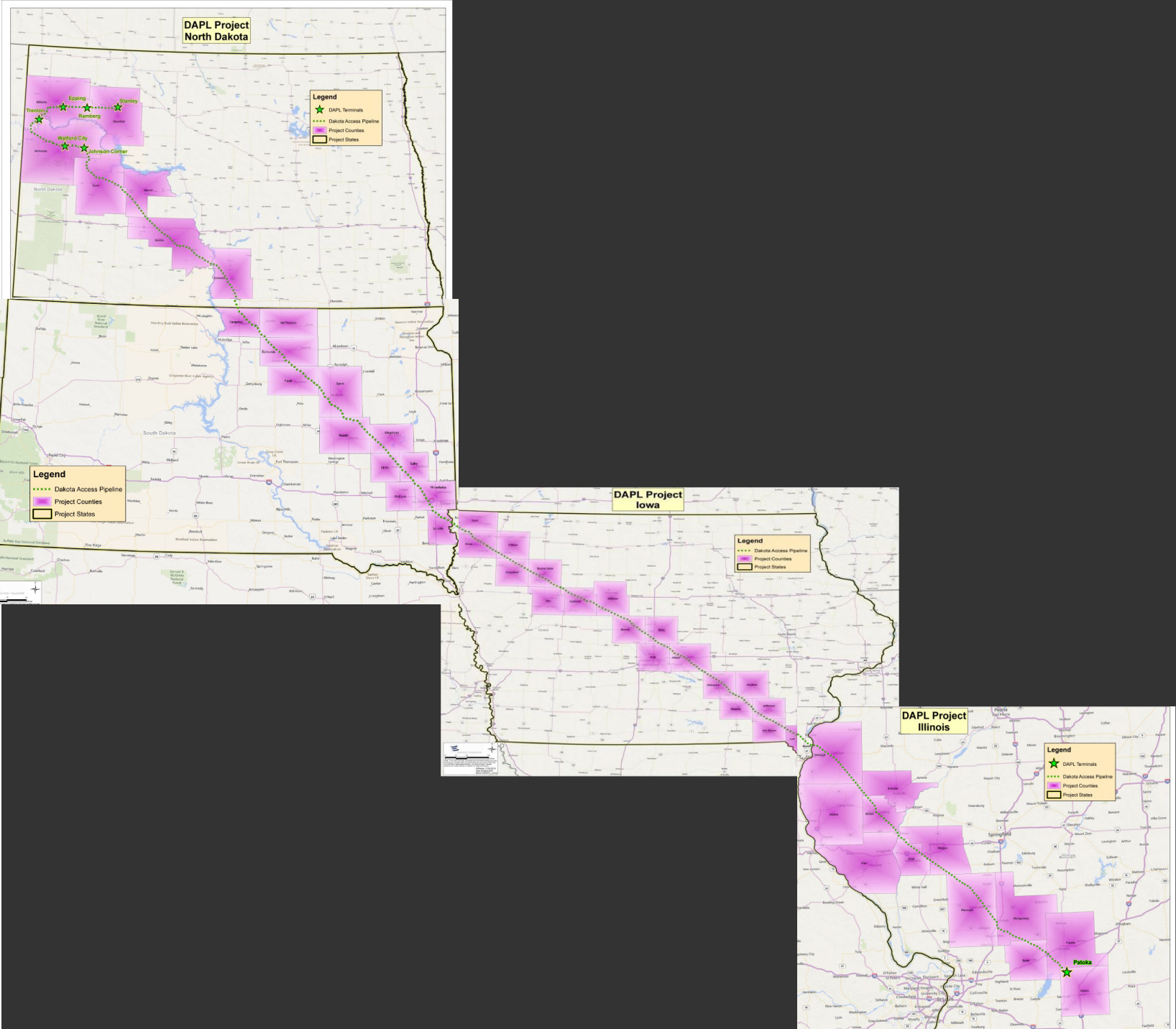 Background on Dakota Access:
In 2014 Energy Transfer Partners and Dakota Access announced plans for a 1,168 mile long oil pipeline that would carry crude oil from the Bakken oil fields in North Dakota to Illinois (via South Dakota and Iowa) where it will link with another pipeline that will transport the oil to terminals and refineries along the Gulf of Mexico. The company also claims that some of the crude oil may be loaded onto rail cars for shipment to the east coast.
Dakota Access has received permits from the Public Utilities Boards in all 4 states, and has used eminent domain in some places to take easements if landowners do not voluntarily grant them. In many states, landowners, tribes and environmentalists continue to push back against this project to try and require environmental review, studies or archeological studies with limited success. In July 2016, the final permit from the Army Corps of Engineers was issued for Dakota Access after Nationwide Permit 12 was used to segment the pipeline into individual projects allowing for a fast track approval without adequate environmental review or public input. Their review ignored the fact that tribes have stated that the surveys conducted on the pipeline route were deeply flawed and inadequate. And furthermore, three other federal agencies all sent letters to the Corps, asking it to adhere to federal policy of consultation, raising environmental justice concerns. Then, just yesterday, Canadian pipeline giant Enbridge announced that, along with Marathon Petroleum, it will make a significant investment in the Dakota Access pipeline.
Construction has started in several places, including along the Missiouri River just upstream from the Standing Rock Sioux's drinking water supply. They have set up a resistance camp just across the river from the construction site and the tribe has also sued (represented by Earthjustice) the Army Corps of Engineers for violations under the National Historic Preservation Act and for threatening their livelihoods, sacred sites, and water. The Standing Rock Sioux have led a national campaign to draw attention to the pipeline, which crosses the Missouri River less than a mile upstream of the Tribe's reservation, imperiling its drinking water supplied and destroying sacred sites. The tribe has launched an international campaign, called "Rezpect our Water", asking the Army Corps to deny the key permits for the pipeline.
Frontline Fighter Allies