Press Release: Social Movements representing more than 200 million people around the world denounce corporate take-over of Ban Ki-Moon Climate Summit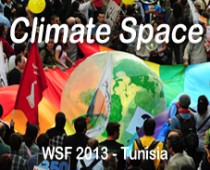 Social movements such as La Via Campesina, OilWatch International, Migrants Rights International, Global Forest Coalition, the Indigenous Environmental Network, Grassroots Global Justice Alliance, ATTAC France and more than 330 organizations (1), representing more than 200 million members around the world, including peasants and small farmers, indigenous peoples, migrants, workers, women, people of color, environmental and climate justice activists and water warriors, have publicly denounced the corporate take-over of the upcoming Ban Ki-Moon Climate Summit. In a joint statement published on September 16, they call for systemic change rather than the voluntary pledges and market-based and destructive public-private partnership initiatives that currently feature on the Summit's agenda, like REDD+ Climate-Smart Agriculture and the Sustainable Energy for All initiative.
The statement calls for 10 concrete actions to be taken to prevent climate chaos including immediate binding commitments to keep the temperature rise to no more than 1.5degrees Centigrade. The social movements go on to warn against what they call the "false solutions" and harmful actions that the big corporations that have been invited by UN Secretary General Ban Ki-Moon to play the lead role at the upcoming Climate Summit in New York are pushing for.
"Climate change negotiations are being dominated by irresponsible states, polluters and corporations that only care about current operations and the furtherance of profits through more fossil fuel exploitation, new carbon markets and other false solutions like industrial bioenergy that are destroying forests, soils, wetlands, rivers, mangroves and oceans," states Genevieve Azam, Spokesperson of ATTAC France.
Carlos Marentes Director of Border Agricultural Workers and Member of La Via Campesina International adds, "Ban Ki Moon's New York Climate Summit has been surrounded by a lot of fanfare but does not call for genuine systemic actions. It instead proposes several of the false solutions of the green economy, including dangerous techno-fixes and market-based solutions that will do more harm than good. It fails to recognize that climate change is the result of an unjust economic system that is in the business of pursuing endless growth, concentrating wealth in the hands of a few and over-exploiting nature to the point of collapse."
The social movements point out halting climate change calls for an end to the neoliberal free trade regime that promotes this pursuit of endless growth and endless profit for transnational corporations. They call for an end to the often secret negotiations on the corporate trade and investment regime of the World Trade Organization (WTO), the proposed TransPacific Partnership Agreement (TPP), TransAtlantic Trade and Investment Partnership Agreement (TTIP) and other bilateral, regional and plurilateral agreements that seek to commodify all aspects of life and nature. Nnimmo Bassey of Health of Mother Earth Foundation (HOMEF), Nigeria points out, "These agreements undercut domestic labor, destroy nature, and substantially reduce the capacity of nations to define their own economic, social and environmental priorities."
The New York Summit is said to be a key milestone in the road to the 21st Conference of Parties of the UN Framework Convention on Climate Change in Paris in 2015, but the social movements supporting the statement point out that this requires firm legally binding commitments and transformative change rather than the business as usual currently proposed. ""Of course, we need real and concrete actions. But not any kind of action. No more voluntary pledges and empty promises. There will be no going back from the climate chaos if we do nothing to confront and challenge the inaction of our governments' policy-making being taken over by polluting corporations. It is crucial for us to all strengthen our concrete struggles on the ground and focus our energies on changing the capitalist system.," concludes Cindy Wiesner of Grassroots Global Justice Alliance.
(1) The statement and the full list of organizations can be found here: http://climatespace2013.wordpress.com/2014/09/16/mobilize-and-organize-to-stop-and-prevent-planet-fever/
To arrange for interviews with any of the spokespersons, please contact any of the following:
Annelies Schorpion annelies.schorpion@viacampesina.org (French, English and Spanish)
Maxime Combes maxime.combes@gmail.com (French, English and Spanish)
Alberto Zoratti azoratti@yahoo.it (Italian and English)
Sha Grogan-Brown sha@ggjalliance.org (English and Spanish) mobile number:+1-917-586-9044